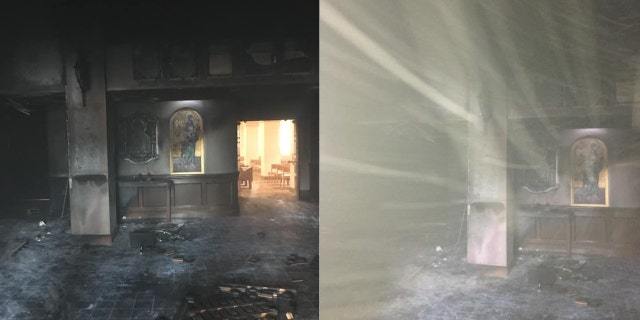 Over the weekend, the Death Cult
stepped up its attacks on the Church
, taking a major step toward the imminent
martyring of Christians
.
A Florida man was arrested Saturday after plowing his vehicle into a Catholic church and then setting the building on fire as parishioners were inside preparing for Mass, according to officials.
The Marion County Sheriff's Office said Steven Anthony Shields, 24, crashed his van through the front doors of Queen of Peace Catholic Church in Ocala around 7:30 a.m. He got out, poured gasoline in the foyer area and set it on fire, authorities said.
Shields then drove off but was spotted by Deputy Josue Gonzalez, who stopped the vehicle by hitting it with his patrol car, the sheriff's office said.
Nothing is safe from the corrupting smoke of Satan--not even the Florida Man meme.
Shields, who referred to himself as "king" and claimed to be on a "mission," told a detective he has problems with the Catholic Church, according to the affidavit.
No kidding.
Shields, who lives in nearby Dunnellon, also said he has been diagnosed with schizophrenia and is not taking his medication, the Star-Banner reported.
It's possible that the perpetrator may just be suffering from schizophrenia exacerbated by anti-Christian hysteria. It's also impossible to discern over the internet whether or not he's demonically possessed. However, the two conditions aren't mutually exclusive.
Considering that he attacked a parish affiliated with
FSSP
--a priestly confraternity dedicated to celebrating the Latin Mass--ruling out demonic involvement seems imprudent.
As people convert en masse to a hostile heretical cult while many clergy preach worldly doctrines directly at odds with
perennial Magisterial teaching
, Satan will only redouble his attacks on Christ's flock.
Prepare yourself physically, spiritually, and
intellectually
.